EU funding: what are the Open Access requirements for publications in Horizon Europe?
In Horizon Europe, the European Commission (EC) requires that all peer-reviewed publications resulting from project funding are open access (OA), i.e., freely available online with no restrictions on use, by depositing them in a repository. Peer reviewed articles should be made Open Access immediatly after publications, embargo's are no longer accepted.
At Ghent University, researchers can comply with the EC's requirements by depositing their publications in Biblio. Check the Biblio FAQ for an overview of the registration module.
Open Access Requirements
All peer-reviewed publications of a project must be made openly accessible through a repository
immediately after publication

in an accepted version that may be made public.

with a CC-BY or equivalent license for articles.

with CC BY-NC, CC BY-ND or equivalent license prohibiting commercial use or derivative works, for monographs and other long texts.
Authors must retain sufficient copyrights to meet these requirements (rights retention).

with information about other research results or instruments necessary to substantiate the conclusions of the scientific publication.
An embargo on Open Access is no longer accepted.
Immediate Open Access
There are two ways to guarantee immediate Open Access.
Open Access Publishing:
Open Access journals offer anyone immediate open access to articles without a subscription. Some Open Access journals charge authors a fee to publish Open Access, the so-called Article Processing Charges (APC), some don't (the so called diamond open access journals). A list of qualitative, peer reviewed Open Access Journals can be found on the Directory of Open Access journals, DOAJ. Only APC costs in a fully Open Access journal or platform can be charged to the project. An APC to open 1 article in an otherwise non-open access journal, so-called Hybrid Open Access journals, will not be eligible. Researchers of European projects can also publish free of charge on the Open Research Europe platform. Whatever you choose, you still have to upload and open your publication in a repository.
Deposit in an open repository: by depositing an accepted version of the publication in an institutional or subject repository you can immediately open a publication if the following condition is met:

The author has transferred the copyright to the publisher who allows immediate open access to an accepted version uploaded in a repository.
The author retains the copyright to the published article and can offer the publication themselves in Open Access. Sherpa/Romeo, the database giving an overview of copyright and open access (self-archiving) of publishers, can be accessed to check publisher policies. Researchers at Ghent University can fulfill this mandate by depositing and opening an accepted version of their publications in Biblio. Consult the Biblio FAQ for information about registration of publications.
Rights retention
In order to retain copyright on the Accepted Author Manuscript the submission manuscript should include:
Name of the funder and grant number
Text to indicate that any AAM arising from the submission is already licensed CC BY. For example: "This work was funded by [funder name] [grant number] For the purpose of Open Access the author has applied a CC BY public copyright licence to any Author Accepted Manuscript version arising from this submission." Check your own grant agreement or the cOAlition S organisations implementation webpage for details.


4 steps to Open Access
Step 1.
Submit a paper to a journal of your choice (you are not restricted to Open Access journals). Publication fees (article processing charges) in full open access venues for peer-reviewed scientific publications are eligible costs and can be reimbursed within the project period.
Publish in a full OA journal of choice, pay APC and claim the cost on the project
Publish in a full OA journal that does not charge APC , also called a diamond open access journal (check DOAJ for suggestions)
Publish in Open Research Europe (ORE), the open access publishing platform provided by the European Commission, for free
Publish OA in a hybrid journal, pay APC from your own means (this is not an eligible cost)
Publish in a closed journal and retain the right to immediately deposit the accepted author manuscript
Step 2.
Deposit the postprint or final peer reviewed author manuscript (AAM) or publisher's PDF of the open access publication in Biblio as soon as possible and at the latest on publication. It is not enough to list publications via a project website, a personal website or networks such as ResearchGate. An embargo period for Open Access is no longer accepted. Check the publisher's policy to determine which version of the publication you can upload and if an embargo applies on the webpage of Sherpa/Romeo.
Step 3.
Acknowledge project funding under 'project' when filling out the 'Details' section in Biblio. This can be done by filling in the name of the project, acronym or project code. Publications linked with European projects, are automatically reported in the reporting portal of Horizon Europe, via OpenAIRE. Keep in mind, though, that it can take several weeks before you see these publications in the reporting portal.
Step 4.
When uploading the publication to Biblio, the default setting is Open Access. You can change access via "edit access", e.g. to change access to 'local access' while indicating an embargo period in the field 'Switch Access Level'.
Useful links/tools
Some tools and services canhelp you to select the best way to make your article immediate Open Access:
The directory of Open Journals: provides information about high-quality, open access, peer-reviewed journals, their policies and possible costs.
Sherpa Romeo: is an online resource that aggregates and analyses publisher open access policies from around the world and provides summaries of publisher copyright and open access archiving policies on a journal-by-journal basis.
Open Research Europe: is a scientific publishing platform available to Horizon 2020 and Horizon Europe beneficiaries. It is free of charge for EC projects, it has a rigorous and open peer review process, and the open access model allows anyone to access the results.

Biblio: regardless of where you publish, a version of the publication must always be deposited in Biblio. Check which version you can upload, depending on the publisher's policy, to provide immediately Open Access via Biblio.

cOAlition S FAQ rights & licences provides information on rights retention and licences
OpenAIRE guide on how to comply with the horizon Europe mandate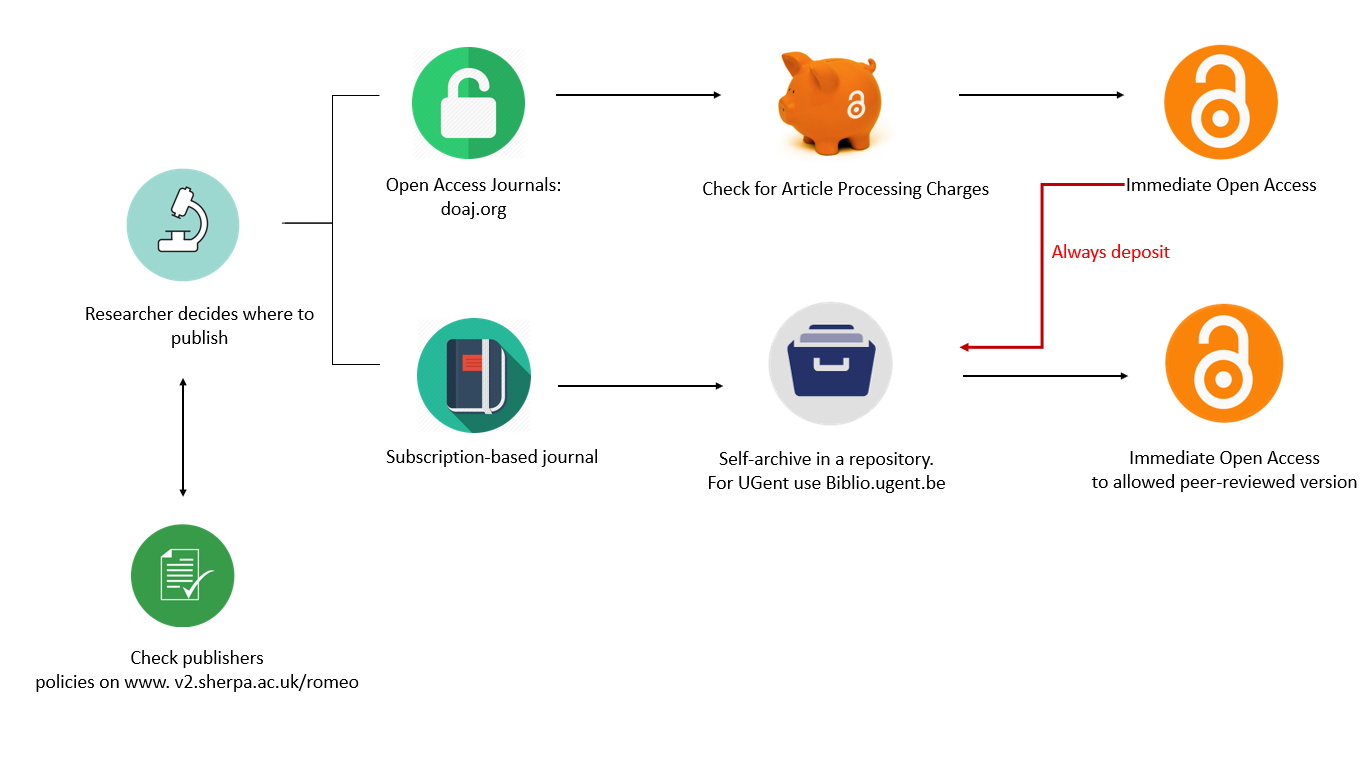 Mandatory and recommended open science practices
Below you can find an overview of research tips on how to comply with the Open Science requirements and recommendations in Horizon Europe:
Source reference
European Commission, Horizon Europe Programme Guide   
European Commission, Horizon Europe Programme Standard Application Form (HE RIA, IA)  
European Commission, EU Grants. AGA- Annotated Model Grant Agreement  
More tips
Translated tip
Last modified Oct. 19, 2022, 11:48 a.m.