Open Research Data Pilot and research data management for Horizon 2020 projects
What is it about?
Open data is data free to use, reuse, and redistribute. The Open Research Data Pilot of the European Commission aims to make research data generated by Horizon 2020 projects openly available. There are two main pillars to the pilot: developing a Data Management Plan (DMP) and providing Open Access to research data if possible. You can find detailed guidance in the EC's Guidelines on FAIR Data Management in Horizon 2020.
The conditions you have to adhere to, are:
Develop (and keep up-to-date) a Data Management Plan (DMP).
Deposit your data in a research data repository.
Make sure third parties can freely access, mine, exploit, reproduce and disseminate it.
Provide related information and explain the tools needed to use the raw data to validate research results (or provide the tools themselves).
The pilot applies to:
The data (and metadata) needed to validate results in scientific publications.
Other curated and/or raw data (and metadata) that you specify in the DMP.
Costs related to management of research data are eligible, and can be claimed for reimbursement during the duration of the project under the conditions defined in the grant agreement.
Is your project part of the Open Research Data Pilot?
As of 2017 participating in the pilot will be the default option for all Horizon 2020 projects, though opting out is accepted. If your project started before that date, check Article 29.3 in your grant agreement.
Projects started in 2014-2016

Limited ORD Pilot

From 2017

Extended ORD Pilot

Limited ORD pilot: some areas participate: Check Article 29.3 in your grant agreement

Participating is default option for all projects

Possibility to opt-out but also to opt-in on voluntary basis for other areas

Possibility to opt-out
How to comply?
Step 1: Set up a DMP
An initial DMP needs to be submitted by month 6 and subsequent versions should be produced whenever significant changes occur, at periodic evaluation and at the final review. An online tool is available to help Ghent University researchers to write an effective DMP: DMPonline.be. You can find a template for your Horizon 2020 DMP in the online tool. Sign in with your UGent account, create a new plan and select 'European Commission (Horizon 2020)" as funder. Next to the guidance from Ghent University you can also tick the box for extra guidance from DCC (Digital Curation Centre). You can find more information on writing a DMP in the tip "How do I write a Data Management Plan?".
Step 2: Find a research data repository
A data repository is a digital archive collecting, archiving and displaying datasets and their metadata. Find a data repository that matches your data needs and discipline. An overview of repositories can be found at Re3data or FAIRsharing.org. If there is no subject-specific data repository available, catch-all repositories such as Zenodo, Open Science Framework (login via UGent possible); EUDAT's B2Share or figshare provide a good alternative.
Step 3: Deposit your data
Deposit the data and the information necessary to access the data: metadata and possibly tools/instruments to access data, in the data repository. Attach an open licence, such as a creative commons license, to the datasets that can be made openly available.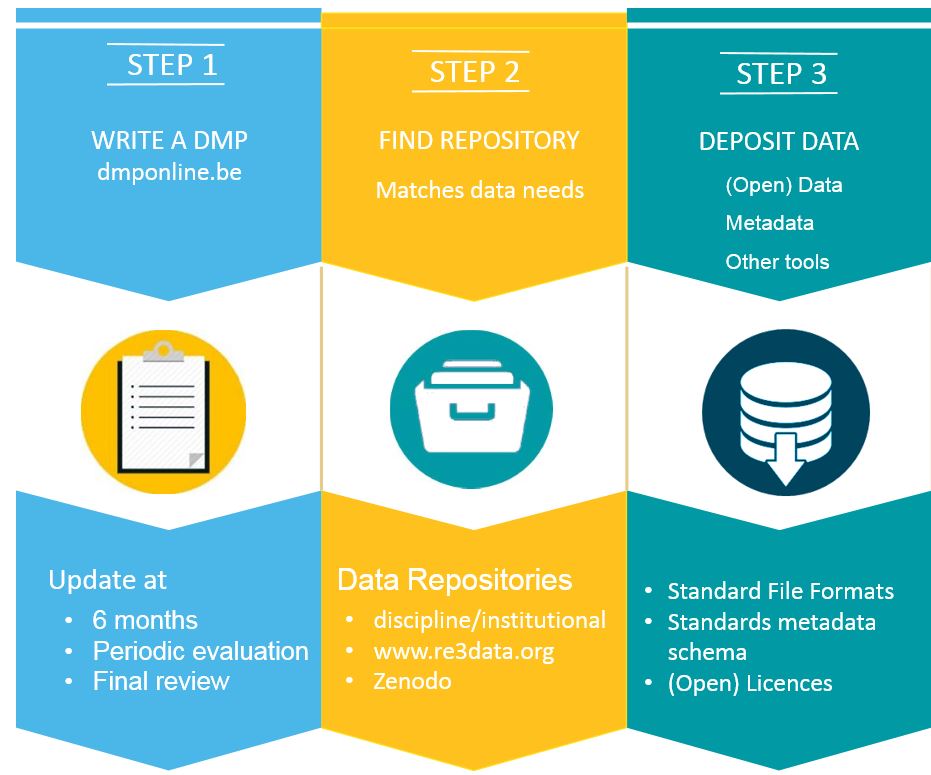 (Partially) Opting-out

Each proposal will need to consider taking part, but it remains a flexible pilot in which projects can opt-out of at any stage: during the application phase, during the grant agreement preparation phase or after the signature of the grant agreement.
Moreover, it is for projects to define which data the pilot covers for their specific context. A project could take part in the pilot and choose to make only a subset of the data available, or they could plan to make certain data available initially but change the decision mid-project, for example if they discover there's a commerical application and plan to file for a patent. The pilot is incredibly flexible to enable projects to decide which data to make openly available and when. The key principle to bear in mind is to be "as open as possible, as closed as necessary." If you plan to keep some datasets closed, you need to justify these decisions in your Data Management Plan.
More information
OpenAIRE supports the EC's open access policy, including the (open) research data pilot. Check out their guide on open research data.
Check the EC's Guidelines on FAIR Data Management in Horizon 2020.
The university library provides guidance on data management and feedback for your Horizon 2020 DMP. For questions or feedback, send us an email.
Source reference
http://ec.europa.eu/research/participants/data/ref/h2020/grants_manual/hi/oa_pilot/h2020-hi-oa-data-mgt_en.pdf
More tips
Translated tip
Last modified Nov. 9, 2022, 10:29 a.m.