Research visibility: approach to increase your visibility
Having good visibility of scientific output, ensures greater reach and may lead to greater impact of your scientific work, on a scientific, social and economic level.
The roadmap below can be used as a guide to promote the visibility of your scientific research.
Register an ORCID iD

Visit the Create & Connect interface via http://orcid.ugent.be to create an ORCID iD or connect an ORCID iD to Biblio. The ORCID research tip shows you how to register an ORCID iD step-by-step and how to connect it to Biblio. The research information system of Ghent University, GISMO, also uses ORCID iD.

Use correct affiliation(s)

Use the correct affiliation tag UGent and/or Ghent University Hospital when submitting a publication. This ensures that UGent and/or Ghent University Hospital are internationally recognized as the appropriate university (hospital). The list with permitted affiliation tags can be found on the UGent webpage about sensible publishing.

Use your ORCID iD

Once you have created an ORCID iD, it is important to start using your ORCID iD in your research activities such as when submitting a manuscript or applying for a grant. This way, you ensure that your research output is correctly attributed to you.

Add publications to Biblio

Register and deposit your scholarly publications in the academic bibliography repository Biblio. A more detailed manual to register publications in Biblio can be found in the research tip about registration workflow of Biblio.

Update your ORCID iD

Publications from Biblio can be sent to your ORCID id via your My publications list. A more detailed manual on how to exchange information between Biblio and ORCID can be found in the ORCID research tip.

Deposit data

Choose a suitable data repository to deposit your research data. Tips to select an appropriate data repository can be found here.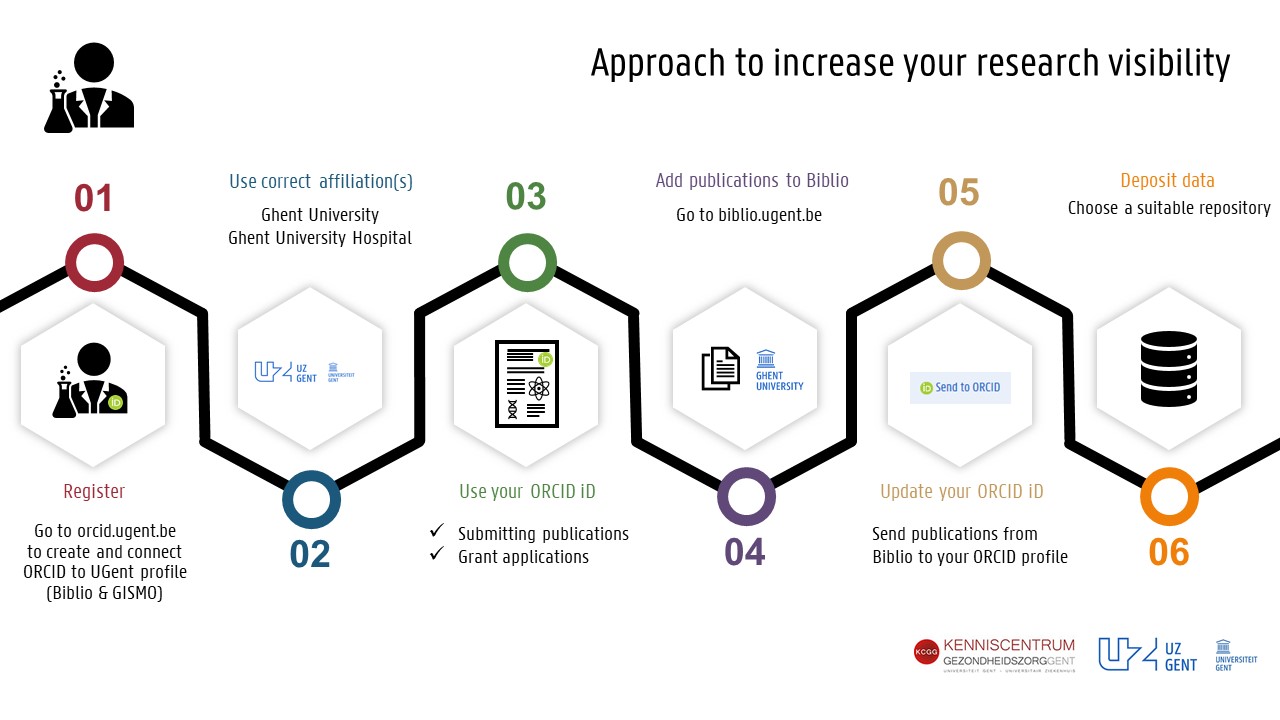 More tips
Translated tip
Last modified July 24, 2023, 2:51 p.m.